The highest pleasure of the audience arrives in those moments when we are completely immersed in our journey of pursuing the art through the artist. Every successful artist has their own way of reaching out to their audience and captivating and engaging them. Maithili Thakur, says music reviewer Christopher Dalton, "has a persona, which, even before she begins to convey her art, radiates a genuine warmth that caresses her audience." This creates in the latter an instant connect with a sense of belonging. The power she wields over audiences is her uniqueness. The majority of those who come to hear her sing are soothed by her aura. Most everything about her is natural, from her singing to that mesmeric smile fixed almost permanently on her face.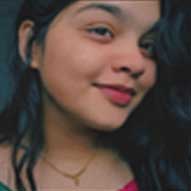 When I first chanced upon one of her song videos online, I felt immediately drawn towards her humble yet magnetic charm, her smile, and her voice. Onstage, she's vibrant as a butterfly. I like how she pleasantly conveys the essence of each song and explains the scenario and the meaning of every line. There is an innate elegance in her every movement and a sweet, energetic vibe about her that reverberates. When she sings, she often reaches out to her audience with her gestures.
If I were to talk of one of my core childhood memories it should certainly be my encounter with music. The front-mounted seat of my dad's scooter will always make me nostalgic. I remember when my dad and I used to go around the city on it and me innocently getting excited about the cold breeze rushing upon my face. Bhajans during these rides formed the backdrop of my relationship with music. Listening to my dad sing Bhajans at every family gathering, at temples, and casually in the house got me into too into the habit of singing Bhajans, well before I started any formal training. Later, I would go with him to temples and practice singing bhajans, holding a Manjira.
It excited me tremendously, therefore, when I learnt that Maithili too had a similar beginning. Hailing from a family of music teachers, her first academic encounter with music was through her grandfather and father who both taught her to talk and sing in the "Maithili" language, from which she received her name. Growing up in a household filled with music, she was immersed in a world where melodies and harmonies became an integral part of her life. The encouragement and passion displayed by her musically gifted family members fueled her own love for the art form. [1]
Triple National Film Award winning film producer-lyricist, Amit Khanna says, "Some years ago, I chanced upon a very young Maithili Thakur along her two brothers Rishab and Ayachi singing a cover version of an old Hindi hit. I was captivated. During the lockdown, I followed this talented singer. She has since matured into a widely known Bhajan singer and a Maithili singer. Her meteoric rise is to be complimented. Though still simple, they are moving up in life fast. She has wisely kept away from film music and has concentrated on Bhajans and Folk songs, especially those from her home state, Bihar. Her ability to grasp the finer nuances of classical music and integrating it in her Bhajans is remarkable."
Following her initial training at home, Maithili's talent flourished under the guidance of renowned singers such as Shankar Mahadevan, Salim Merchant, Diljit Dosanjh, and Shalmali Kholgade. This led her to participate in TV reality shows, where she shone brightly, making it to the Top 20 on both Lil Champs in 2011 and Indian Idol Junior in 2015. On Rising Star, she finished as the runner-up, garnering just one per cent less than the winner. Remembering that time with fondness, Maithili says, "I got to meet many celebrities, such as the actors Anil Kapoor and Sonakshi Sinha. It was exciting to meet the movie stars I'd seen while growing up."[2]

Maithili has a persona, which, even before she begins to convey her art, radiates a genuine warmth that caresses her audience.
Today, all of 23 years, Maithili has millions of social media followers, does concerts in Europe, and is the Election Commission of India appointed "Icon of Bihar". Akashvani has made a contract with Maithili to broadcast her classical music for 99 years.[3] Maithili has recorded "Chhath songs, semi classical Kajris, Horis and Chaitis. Among her notable pieces is a tender Chaiti, sung in Raag Mishra Pahadi. Maithili has sung the semi-classical Chaiti with all of its difficult demands — the alaaps, khatkas, murkis and diction."[4] And in a recent Coke Studio Bharat episode, she performs a track along with Seedhe Maut and Ravi Kishan that has Sarod arrangements by Ayaan and Amaan Ali Bangash.[5]
Though she attempts quite a few genres, including Qawalis and English Romantic Pop, she seems most attracted to Bhajans and Indian Folk. Film music composer Soumya Rit Nag opines, "Maithili keeps very much to the traditional when singing Bhajans, rendering her notes with a high-spirited energy that is devotional yet lively." Anindita Dey, associate professor and HOD of English Literature at Debraj Roy College agrees, "Blessed with a soothing voice, Maithili's Bhajan rendition is soul-stirring and takes her listeners along with her on a journey of devotion and surrender."
We live in a strange age in which the majority of us are in a never-ending race to be a part of the pop trends and overdo all others in a blind pursuit of unreachable finish lines. Rather than being a part of this insane competition, why do we not instead listen and dance to the sound of the rain and enjoy the run? Why not pass on the baton of cultures? The answer to this is what makes the story of Mathili so very different from most others who are around her age.
Maithili's attitude towards success is a reminder to me of what my dad always says to me, "Life is to celebrate. Do what you love, and live for happiness. That is all you need." As she nods her head and revels in the music, Maithili not only finds her own joy but also uplifts others, encouraging them to join in and together create an ensemble of feelings. In this Gen Z era where the majority of youth are in a degenerate rush towards nowhere, Maithili Thakur is well grounded. She chooses for now to keep her roots alive by continuing the legacy of her musical folklore.
Krishnapriya Podili
Student Festival Director of the Teen Indie Film Awards. Second-year student at RV University. Enthusiastic about psychology and filmmaking. Finds inspiration in music and dance. Embraces a creative journey driven by her passions.