Mostly, it's all about top film people enlightening audiences through seminars and master classes and all. But FICCI Frames is also a very lively, energetic, fun and laughter place for fans and youngsters like me to freely interact, and click cellphone selfies, with smiling, ever-willing celebs.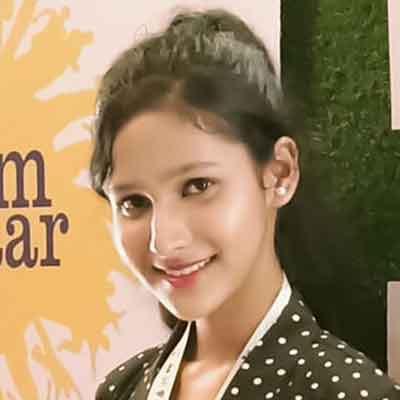 Aditi Samarth
XII (Science), Saraswati Vidyalaya School | passed, 2023
FICCI Frames is supposed to be Asia's largest movie and media convention, where people come to listen to important film professionals and then later meet them and try to do some film business. This is a 3-day, star-studded event which is held almost every year at the Renaissance Hotel in Powai. Now, it has a different name. It's called the Hotel Westin.
I felt good to be back at the first full-fledged edition after COVID 19. It was a thrilling experience once again to attend the extravaganza of the entertainment and media industry's marvelous gathering. As usual, there were celebrities and known personalities all over the place at FICCI Frames. I talked to some of them. I also met many film people who are regular attendees. But I missed some who usually come, but didn't turn up this time. Or, maybe they came and I didn't see them.

NFDC would be financing projects to encourage young filmmakers who don't have access to funds. NFDC would also start its own OTT platform to showcase films that don't get a chance to be seen.
One thing I like about these discussions is that anyone in the audience is allowed to ask questions during the Q&A round. This year, an 11-year-old kid who does masterful coding on his own and has this incredibly innovative idea to manufacture and sell an AI spectacles raised his hand. He's a really smart kid. He initially took the mic to ask a question. Then, he stunned all the dignitaries by telling them about his Super Glasses idea. I hope his fabulous dream project becomes a reality.
At FICCI Frames, I learnt a lot, including that the Indian media and entertainment grew by 20% in 2022 and touched an astronomical Rs. 2 trillion mark. Of this, they said that digital media grew by Rs. 132 billion to reach Rs. 571 billion. This is very good news for my future and that of other youngsters like me.
Apurva Chandra, the Secretary of Ministry of I&B said that NFDC would be financing projects to encourage young film makers like me who don't otherwise have access to funds. He also said that NFDC would start its own OTT platform to showcase films that don't get a chance in the market to be seen.
He said that the government wants young talent to be able to showcase their talent, and would set up plenty of institutes and give a lot of support to the media and entertainment people so that we can reach the world stage. He said that there is a very good chance of us capturing the entire world because the foreigners all want stories about our culture.
Piyush Goyal, who is the Minister of Commerce & Industry was full of praise for the Oscar awards that we received this year for the Naatu-Naatu song and for the Elephant Whisperers, especially because it showcases our country's emerging contribution in the field of entertainment. He said that he was sure that Indian cinema will make a mark that will be matchless on the global map.
Actor Ayushmann Khurana also agreed to this. He said that the more local we go, the more global we will reach. He said that our film industry is at the cusp of global greatness, and that India is now being looked at as a creative juggernaut. Later, I met him and clicked selfies with him on my cell phone.
Teen Indie Film Awards '23